Clyfford Still
was affiliated with the first-generation of
Abstract Expressionist
artists. Still, along with painters such as Jackson Pollock, Mark Rothko, and Robert Motherwell, initially gained cultural relevance in New York City following World War II. Expressive brush strokes upon large canvases characterized the general aesthetic of the paintings from this period. Eschewing figuration for the emotional intensity produced by spontaneous brushwork, the paintings of Still and his peers conveyed the grand human narratives of life, death, art, and love through their large scale and primal use of color.
When Still died in 1980, over 2,400 of his works (approximately 94% of his output as a professional artist) were kept from public viewing until, in accordance with his will, a permanent home for them was built to house them exclusively.


In 2007, Denver, Colorado won the construction bid. Still's estate commissioned
Allied Works
to build the two-story, 28,500 square foot museum, which officially opened on November of 2011 and is located in the Civic Center next to the Denver Museum of Art.
The building is "a solid, continuous form that is opened up by natural light. Walls of textured concrete form the primary building envelope, interior walls and structural system." The austere, concrete structure highlights Still's paintings by affording their vibrant colors visual precedence; but the building's impressive yet minimalist stature mimics, in many respects, the streamlined elegance of those very same paintings. As such, the Brad Cloepfil-designed museum simultaneously intensifies and compliments Still's work.
After entering the first-floor educational gallery with video displays and Still-related literature, patrons can walk through the second-floor galleries and follow the trajectory of Still's 50-year career as a professional painter.

His output from the mid-20s through the mid-30s contained representational, but somewhat impressionistic, landscapes characteristic of Alberta, Canada and the Pacific Northwest. While his subject matter remained similar, during the mid- to late-30s Still's aesthetic altered. His once impressionistic style transformed into something grotesquely surreal; his images became darker and monstrous, often depicting human figures with abnormal facial features and disproportionate limbs.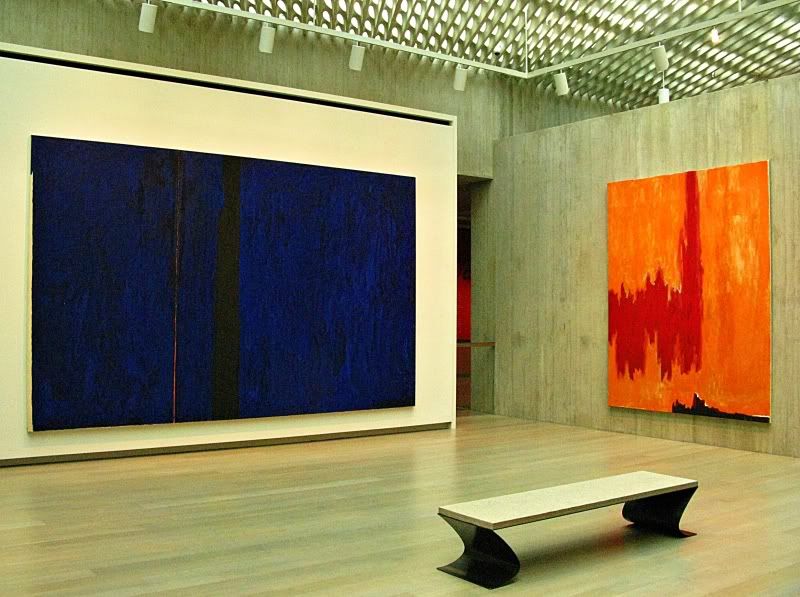 It was not until the earlier-40s, nearly twenty years after began painting seriously, that Still began experimenting with radical abstraction, liberating himself from the confines of representation. His first forays into this new aesthetic venture focused on lines and shapes; but, upon moving to San Francisco in 1946, he infused more vibrant coloration and jagged forms into his work. During his last twenty years as a painter, Still experimented more thoroughly with surface texture, oftentimes leaving sections of his canvases unprimed and unpainted, while other sections contained clumps of paint that produced a heavily textured topography.
The Clyfford Still Museum is open Saturday through Thursday, from 10AM to 5PM; on Fridays from 10AM to 8PM; the museum is closed on Mondays. Tickets for adults are $10, students with valid identification can access the museum for $6, youth admission is $3, and those under the age 5 can enter for free. Access for members of the museum is free.