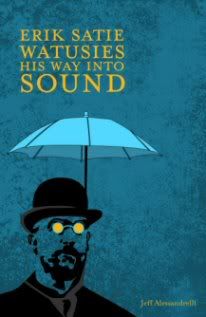 One of the first things readers of Jeff Alessandrelli's Erik Satie Watusies His Way Into Sound will notice is the fact that the back cover contains biographical material for both the author and Erik Satie; upon opening the book, the front matter contains acknowledgments from both men as well. The collection's copy and front matter signal, it would seem, a playful engagement with identity and proper nouns. Specifically, Alessandrelli conflates himself, the speaker of his poems, and Erik Satie in such a manner that all three personalities become intimately entwined. The book's first iteration of the list poem "A Game of Numbers" twice addresses this melding:
1. As we grow older our only investigation:

ever year searching for a sleeker, more

impulsive version of ourselves. (5)

8. As an adult Eric Satie became Erik Satie

to highlight his Scandinavian lineage.
What we garner from these two excerpts is that we constantly search for identities or "version[s] of ourselves" that we feel best fit who we want to be, and changing our name is one way to highlight a particular transformation or "lineage" we want to occupy. So, when Alessandrelli writes, "the musician— / dream-thin and wizened— / farms sounds near a ripening / at the back of his head" (3), these lines could refer to either Satie, Alessandrelli, or both. To this extent, Erik Satie Watusies His Way Into Sound acts as a meeting between two artists, similar to the meeting that occurs between two men in the first iteration of the poem "Erik Satie Watusies His Way Into Sound":
the silence after each note passes

represents the agreement reached




between them that afternoon,




Just that two men met one day

beneath the awning of an apple orchard,




and the dull smack of their lips

moving was the languageless sound

of their satisfaction with each other (9)
Indeed, Erik Satie Watusies His Way Into Sound is a meeting between two men: a "languageless sound" that is an "agreement reached / between them that… / explains why we know / the nothing about them // that we do" other than the fact that they are mutually satisfied with one another. Why after sixty-six pages of poems, prose, and staff ledger do we know nothing of these men? Because "Erik Satie did not exist except for some scattered lines around the peripheries" (19). And how are we to know anything of a man based upon a few scattered lines? And how are we to know anything of a man who bases himself on the image of another man who did not exist?