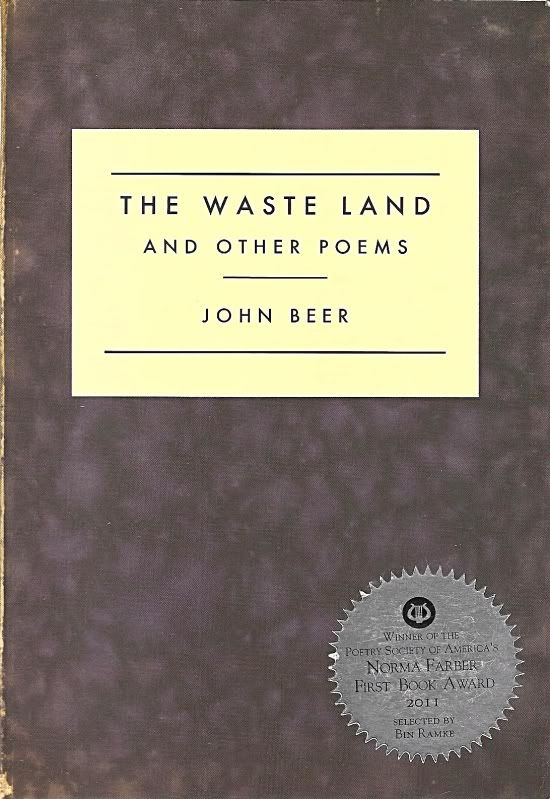 In "Swift Boat Veteran For Beauty," the speaker of the poem declares: "Let me be the first / to underscore the insignificance of lineage" (30). If a poet's lineage truly is insignificant, how should a reader approach a collection that, by its very name, discourses directly with lineage and "recapitulates the ancient / ceremonies" (15) that came before it? By choosing to title his book after one of the most iconic poems of the twentieth century, John Beer seems to engage the writing of T.S. Eliot in his first book
The Waste Land and Other Poems
(
Canarium Books
, 2010). But is this, in fact, what he really does?
As one might guess, declarations about "the insignificance of lineage" are tongue-in-cheek; in fact, the significance of lineage on Beer's writing is great. Rather, the "insignificance" Beer invokes is the insignificance of Eliot's lineage, not of poetic influence wholesale. For indeed, the title The Waste Land and Other Poems is a dodge: through and through, the collection is a tribute to Jack Spicer, to whom Beer dedicates the title poem. As Beer writes, "nothing returns as we ask it to return" (12); and when the "dead return[,] we don't recognize them" (62). In Beer's poems, then, Spicer returns wearing an Eliot "mask in a poem infected with masks" (20); thus, we can be forgiven for momentarily thinking he is someone other than himself.
To get a better sense of how Beer's The Waste Land and Other Poems is an homage to Spicer, it's important to return, briefly, to the latter's first book. At the beginning of After Lorca, Spicer playfully pens a letter in the voice of the Spanish poet, admonishing himself (i.e. Spicer) for the project he endeavors to undertake:
Frankly I was quite surprised when Mr. Spicer asked me to write an introduction to this volume. My reaction to the manuscript he sent me...was and is fundamentally unsympathetic. It seems to me the waste of a considerable talent on something which is not worth doing.

…
Mr. Spicer seems to derive pleasure in inserting or substituting one or two words which completely change the mood and often the meaning of the poem as I had written it. More often he takes one of my poems and adjoins to half of it another half of his own...Finally there are almost equal number of poems that I did not write at all...executed in a somewhat fanciful imitation of my early style. (The Collected Books of Jack Spicer, 11)
Spicer writes through the persona of the dead and disgruntled Lorca as he comments on Spicer's misguided translations. In doing so, the poet sets the collection's tone: mischievous, but respectful; acknowledging tradition, while simultaneously undermining it.
Beer's poetry echoes this paradoxical tone as well. Yes, he honors Eliot by co-opting his title, but within "The Waste Land" we find:
O O that T.S. Eliot

he's such a shrinking violet

and if you think I sigh a lot

try life with T.S. Eliot (12)
According to the speaker of the poem, one sighs quiet often when sharing a "life with T.S. Eliot." Perhaps this sentiment expresses some tired melancholia or literary ennui induced by the deceased poet's chronic self-importance or solipsistic voice devoid of humor and emotion. Certainly, the invocation of Eliot, and Beer's tendency to produce "fanciful imitation[s]" of his style, serve to recollect the poem; but to call the poet "a shrinking violet" who elicits sighs certainly evokes a pejorative assessment.
Likewise, just as Spicer inserted and substituted words into Lorca' s poem, conjoined his own work with Lorca's work, or wrote poems entirely from his own imagination, Beer conveys a similar belief:
Not the moon you lovers see,

the moon as it appears to me

and me alone, my eyes refined

by distillation in the mind. (15)
If the moon, in this instance, functions as a metaphor for the poetic tradition, then indeed, Beer worries little about Eliot's "moon." Instead, he creates a "moon as it appears" within his own mind: a product not of the canonical poet's influence, but the imagination of a contemporary writer at odds with the past; or, at least, a contemporary poet echoing Spicer, who wrote: "A diamond / Is there / At the heart of the moon / ... / And there is nothing in the universe like diamond / Nothing in the whole mind" (The Collected Books of Jack Spicer, 21-22).
But Spicer's conceptualization of tradition (and by extension Beer's) was more complex than merely bedeviling a deceased poet's reputation through pantomime and revision. In After Lorca, he writes that tradition "means generations of different poets in different countries patiently telling the same story, writing the same poem, gaining and losing something with each transformation—but, of course, never really losing anything" (The Collected Books of Jack Spicer, 15): a retelling wherein something is both lost and gained, a transformation that provides us with "the coolest month" (10), while always mindful of the "cruelest" month.
Of course, tradition becomes all the more complex when the author is also dead, writing from beyond the grave. In "J. Beer 1969-1969," the speaker informs us that: "It was when they determined that I had been born dead / That my life became easier to understand" (26). John Beer is dead, but unlike Spicer's Orpheus who received Cegeste's poems from Hell via a car radio, Beer cannot transmit his words because "There's no radio for the dead" (26) anymore; and even if there were, it wouldn't matter because "There's nothing to say because nobody listens" (26).
Claiming that "nobody listens" to poetry (that poetry, ostensibly, is dead) could be read as an expression of self-pity, but, in fact, it's part of a grander, self-conscious realization. Beer acknowledges that poetry is "words that no one read[s]" (26), but he also knows that poetry "writes it[self] in flashes / across the pale pink sky" (43). People might not read poetry, but it exists within the world nonetheless: a paradoxical recognition of both poetry's irrelevance and its ubiquity.